Back to Amsterdam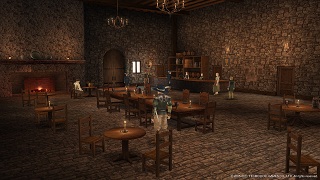 You will visit many Taverns in your travels, it is the place to hire sailors or boost the moral of your current sailors by buying them a drink. The Tavern is also a good place to meet other travellers and form alliances. At the Tavern in Amsterdam you will find several characters milling around including a Seafarer and a Merchant who will help you to hire sailors, dismiss sailors or just to buy a drink all around. You will also find a Representative and a Tailor sitting at one of the tables. The most important characters are listed below.
JOHANNA - THE WAITRESS
BUY HER DRINKS AND GIFTS, SHE WILL SEND IN REPORTS FOR YOU IF YOU BUILD UP A STRONG FRIENDSHIP WITH HER.
CLERK: ITEM -- VIGOUR RESTORED -- DUCATS
BOILED EGGS -- +5 -- 186 D
ROAST CHICKEN -- +25 -- 673 D
PORK SAUTE WITH APPLE -- +30 -- 1123 D
SOLE STEAMED IN LIME -- +35 -- 1123 D
RYE BREAD -- +10 -- 223 D
RYE BREAD WITH RAISENS -- +20 -- 673 D
APPLE PIE -- +40 -- 1798 D
BARKEEP: ITEM -- VIGOUR RESTORED -- DUCATS
TREAT YOUR SAILORS TO A DRINK -- IMPROVES LOYALTY -- VARIED D
RUM -- +11 -- 17 D
GIN -- +15 -- 22 D
GERMAN WINE -- +7 -- 22 D
HONEY WINE -- +9 -- 40 D
DARK BEER -- +7 -- 17 D
MILK -- +1 -- 7 D
EDAM GRATIN -- +46 -- 57 D
PEA SOUP -- +25 -- 23 D
SALTED HERRING -- +27 -- 29 D
EMPLOY AIDE (BARKEEP): NAME -- SPECIALTY -- DUCATS
VINCENT -- SURVEYOR -- 100,000 D
HELMAN -- CARTOGRAPHER -- 100,000 D
PHILLIP -- HUNTER -- 100,000 D
OSBALD -- PIRATE -- 100,000 D
CORNELIA -- THIEF -- 100,000 D
EDGAR -- NATURALIST -- 100,000 D